New Feature: Show More Payslip Info
When capturing payroll from an employee's profile, our approach has always been to display only the payslip items that impact nett pay directly. This makes it easier to view exactly what impact (if any) the payslip item has on the salary or wage that the employee actually receives.
To view other payslip items, like statutory employer contributions or fringe benefits, you can click on the Preview link to view the employee's payslip. We are now delighted to introduce a new feature that allows you view these other payslip items without opening the payslip. Clicking on More next to the Preview link will display all the payslip items from the payslip on the screen.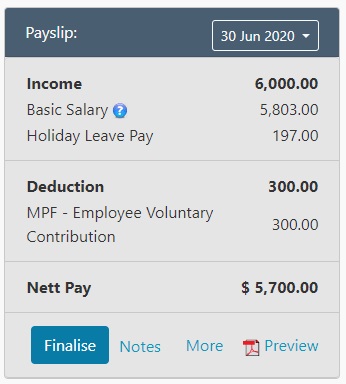 On the left hand side of the screen, you will see all the items that appear in the payslip section that are used to calculate nett pay. On the right hand side, you will see the other payslip items that do not impact nett pay directly (i.e. they are not directly added or subtracted to get the nett pay – however, they could impact the calculation of another payslip item that impacts nett pay).
We hope this new feature for viewing payslips faster makes payroll even simpler.
Team SimplePay